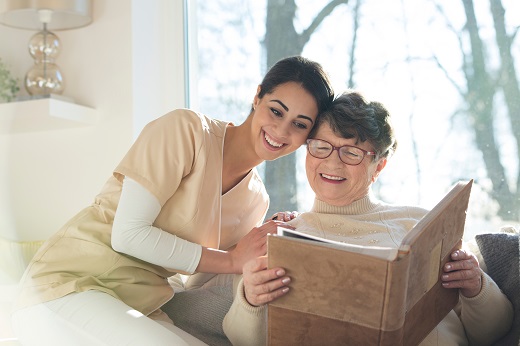 Visual cues are images that are used to help patients with dementia identify various objects around them. Most assisted living facilities and memory care providers employ visual cues to guide their senior residents without getting them lost.
Visual cues can be easily created by printing images online. However, if you do not have a printer, you may also buy flashcards from your local stationery store. To effectively use visual cues, allow our home care services to share some tips.
First, use matte plastic to laminate your cards. A matte surface improves reading for seniors suffering from dementia. In addition, matte laminating material protects your cards from getting wet or filthy.
Second, make sure your cues are visible to your senior. Maintain the cards at eye level. When positioning the cues, keep their height in mind.
Third, color-coding can assist dementia patients in identifying different rooms and/or things. For instance, use orange for the kitchen and its accessories, blue for the toilet, and green for your loved one's bedroom.
Finally, ensure that everyone in the house understands how to use the visual clues. Cooperation might result in a more efficient and secure environment for your senior with dementia.
Hiring health professionals who are knowledgeable in visual cues and dementia care is an important asset to your assisted living and memory care facility. Allow us to help you find one with the help of our healthcare staffing in Michigan.
Friendship Services & Home Care Staffing's innovative home care staffing in Clinton Township, Michigan, will fast-track the hiring process straight to providing quality care to seniors needing help.
For more information about our home care services, feel free to get in touch with us anytime.